Basic Policy
Nakamura-Noen is going to research and provide varieties, which is high quality and high market value from Japan and foreign fields, to supply at the keenest and the soonest logistics. Also improve the facilities such as cooling warehouse etc, to be accomplished as our Motto which is the best quality, the newest technique and the highest services. Our fundamental policy is to be with flower grower, and we treasure communication between, information supply and make technical innovation too. Besides, we cooperate with flower auction to establish continuous year-round flower production and stable supply of the highest quality flowers to promote all the consumption.

Profiles
| | |
| --- | --- |
| Name | Nakamura-Noen.co.,ltd |
| Address | 〒781-0270 5381-2 Nagahama Kochi Japan |
| Too-Free Dial(in Japan) | 0120-874195 |
| TEL | 088-841-1311 |
| FAX | 088-841-0603 |
| E-MAIL | info@nfb.co.jp |
| Website | https://www.nfb.co.jp |
| Employee | 15 (2018) |
| Capital | 99 Million Yen |
| Turnover | 1,500 Million Yen / May 2018 |
| Account Day | 31st May, |
| History | Foundation 1955Establishment of Company April 16, 1990 |
Board Member
Keigo Nakamura (President)Teru Nakamura (Executive Director)Hiroshi Nakamura (Counsellor)
Main Bank
Shikoku-Bank (Katsurahama-Dori Branch)Kochi-Bank (Nagahama Branch)Japan Finance Corporation (Kochi Branch)JA Kochi City (Nagahama Branch)
Affiliation Group
JFGA(Japan Flower Growers Association)JFTA(Japan Flower bulb Traders Association)Erabu Lily and Freesia traders AssociationKochi Prefectural Trade AssociationKobe Plant Quarantine AssociationNagoya Plant Quarantine Association
Products & Services
1.International trading and wholesale of flower bulb and nursery2.Production and sales of flower bulb and nursery3.Sales of horticultural material4.Development & Test Research of Flower and Horticulture
Trading Item

Lily Bulbs

Approx 30 Million pcs

Materials

Peat-moss, Bagasse, Rooting Stocker, Shading Agent, etc
Access
By Car ・40 min from Kochi Inter-change ・30 min from Kochi Station ・30 min from Kochi Ryoma Airport ・5 min from Katsurahama Beach
Business Partners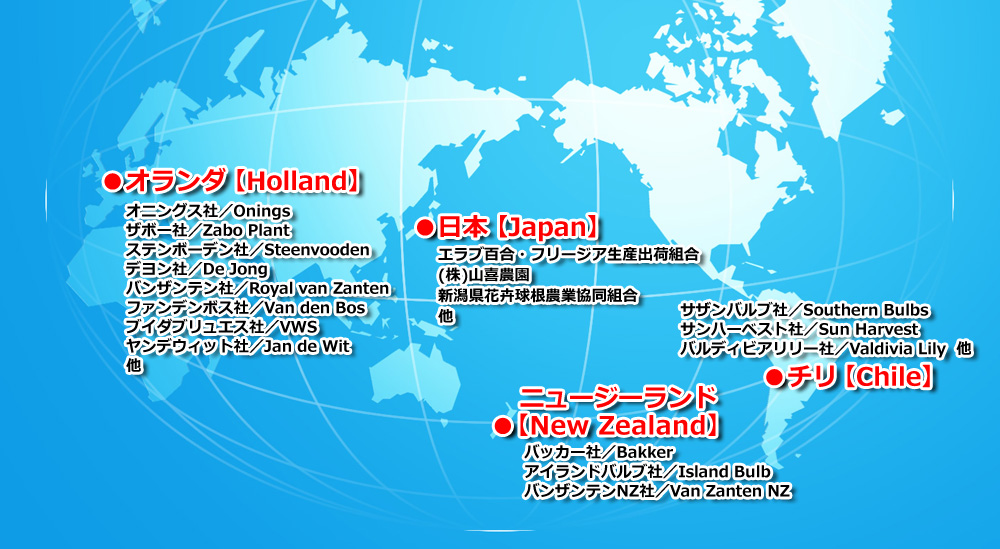 We visit an overseas place of each production periodically (Netherlands, Chile, New Zealand, each 2times or more, etc.), and feel the experience has come to hand promptly, to provide customers with "the newest information", "the best support system" and "The first-hand information" including an oversea market trend, research of new varieties, etc. On the other hand, we have visitors frequently also from a foreign country, and have cooperation also in improvement of cultivar and production suitable for the climate and market in Japan. In the modern information society, we make good confidential relations and are sending to customer the newest information with the original network.
Catalog
Click to open the catalog