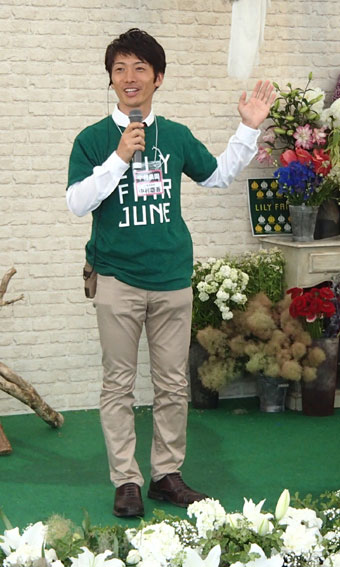 President
Keigo Nakamura
Profile
Born in 1979 March
graduated from Kochi University of Technology
entered Nakamura-Noen.co.,ltd in 2001,
took office as the senior executive director in August, 2002
and as the president from June, 2015 to now on
In 1955 when 10 years passed since the war ended and Japan was not a rich country, our founder Toshimichi Nakamura was fascinated by the charm of lilies, and started flower bulb business while producing cut flowers.
His challenger's spirit was based on adoration for lily, and his wish to deliver good bulbs to the customers. Our corporate philosophy "Always we are with flower growers" was born from his life.
In 1990 when Dutch bulbs became PQ-free, Hiroshi Nakamura established the corporation Nakamura-Noen.co.,ltd in the same year. Our new challenge started since then.
In the global flower bulb industry, technology and requirement are getting advanced day by day. We first installed cooling storages which are specially designed for flower bulbs, then Recycle plant for crushing plastic cases, Test greenhouse, Warm storage for defrosting service, and Solar power generation system followed.
We also made efforts to spread pre-rooting method, improve variety database with test results on our web site, promote flower industry through "Lily Festa", and more things to meet the demand in each period.
Year 2015 is the 60th anniversary of bulb business and 25th anniversary of corporation for us, Keigo Nakamura took office as president of company to succeed improvement for coming future.
In the same year, French bulbs became PQ-free, and we built a new lot-test greenhouse on same time. Design of the greenhouse fit the standard of customers, which is completely different from previous variety test greenhouse, and we try to discover "what the valuable bulbs for our customers are" through the trials.
The new greenhouse will be the place, which customers and we learn together, and also expected to be a good training facility for young forcers in next generation.
Besides, we utilized ICT for high efficiency of work, which created integration of the test growing result in data system, and renew entire website with enhanced variety searching site as well.
In the promotion field, "Lily Festa" continued for 10 years was renovated to "Lily Fair June" in 2017. Also promotional committee (team) expand the range of activity out of the event and progress the experimental challenges.
Now Both Japanese society and existence of flowers are at the turning point to innovate the value and style for the next.
We will keep our best for prosperity together with our customers and initiate "warm society with flowers and smiles".
We will greatly appreciate your continuous guidance and support.
November 2017