NAKAMURA-NOEN CO.,LTD
Keigo Namkamura
 Thank you for your continuous support. We appreciate your understanding and support that we can keep handling bulbs even though quantity of import bulbs reduces in Japan.
Vol.1: About 2013 NL crop
 A result of quantity of import bulbs between December and March is the table below.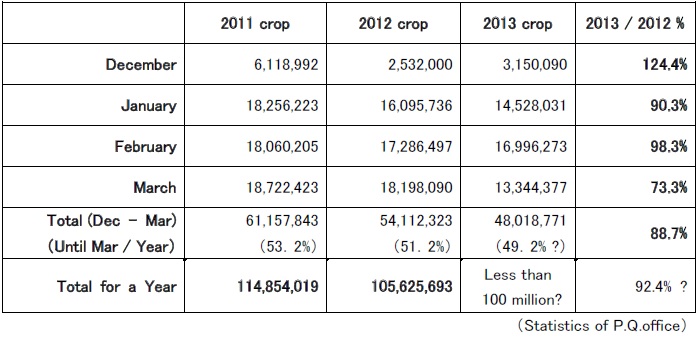 A climate during harvest was not bad but quantity of import bulbs until March reduced as well as last year. (Compare with last year, decrease about 6million, 11.3%)
 We checked the ratio of import bulbs until March in the annual total import. 2011 crop was 53.2%, 2012 crop was 51.2% and if 2013 crop would be 49.2%, import in 2013 of all of Japan may be below 100 million bulbs.
 We felt it might not differ from our expectation when we heard from many of the exporters who came here between the end of March and the middle of April. There were winning & losing company like a exporter decreased quantity more than 10% while there were ones which increased slightly.
 There was not much problem when we checked the quality at the time of arrival but we found that several specific varieties had rotted (Because bulbs were dug too early?), we apologize to our customers related.
 Now, we are growing many varieties for Lily Festa 2014 and we think the power of bulbs is normal to better by checking stem width at our test greenhouse. How about at your greenhouse?
Vol.2: About 2014 SH crop
 We got about 90% orders of last year by March, and then we are now in the final part. We think the purchase price of 2014 SH crop was not bad in the consideration of global understock thanks to the exporters' corporation, but we cannot deny that we feel the price is little high when we examine a price in yen from influence of the exchange (weak yen).
 While quantity of import bulbs decreases, the expense of the company varies depending on handling quantities or the way to transport and storage etc., so, something has changed against the 2000s when each companies competed by same unit price. Recently, we sometimes hear that business without showing the price is seen in many places (Customers can realize the price after they received their invoice.), we think that these situation is caused by such a background.
 The exporters of Holland often say that Japanese cut flower forcers don't pay attention to the cost, however, we feel such custom is getting end when we see your recent orders. We continue to make an effort for your business to go well and steadily. Let's do our best together!
 We show you the cooling cost of 2014 SH crop. It's is free until November and after December, its price is 100 yen discount until the 15th of the month.


(We think difference of up to 3.3 yen per a bulb is pretty important.)
(In 20-22 size case, the maximum difference becomes 4 yen!)
 Through a research fields in SH by ourselves, we would like to improve quality, prepare wide variety range and arrange appropriate import and delivery for your plan, and by these efforts we try to help you more and more.
Vol.3: About 2014 NL crop
 When our staff, Mr. Onishi, was training in Holland between last December and February, he reported that it was so warm by unusual weather. And its climate continued during March and April. The average temperature in Holland is the table below.


 We can find that it was quite warm this year and it was totally chilly last year.
 Planting started in the middle of March and it went well thanks to a good weather. Some growers finished planting by the middle of April. We will report about their growing after we research there.
 In trading of 2014 NL crop, LA started in February and OR did in April. Both are dealt more quickly than normal year because of lack of 2013 NL and 2014 SH crop. This is because economy in Southeast Asia and South America is good but a decrease in bulb production seems to influence it above all.
 A quality rule to check virus of planting material and to limit planting was constituted by group of bulb grower and inspection organization BKD in Holland. Therefore, many of the growers can judge to dispose problem lots more than ever for making own lots clean by themselves.
 Stop or decrease of production occurs not only because of quality problem but also poor sales or too low price to reproduce of last year.
 Cheap varieties (bulbs and also cut flowers) are cheap for some reason, so it might proceed renewals of lily varieties now.
 In planting time, various information spread, so we have to check again and again. But we already heard that Carona, Tropic Diamond, Digital Globe, Val di Sole, Mona, Allstar, Namara and not well known varieties etc. became out of production.
 We will visit Holland to check growing condition or sales situation this month.
 Open day of the breeders and the exporters, called "Dutch Lily Days", will be held between 20 th and 23 rd of May. Some greenhouses didn't bloom last year in time, but those are growing well this year, so it won't probably happen again. Now, we grow new test varieties for our Lily Festa and we are checking carefully whether those growth speed is exactly same as advance information.