Keigo Nakamura
Thank you very much for the continuous business with us.

 

 We report about the CH and NZ varieties which has lot number for Japan. (It is temporary list because some of them is still under checking.)

 About 2014 SH bulbs, the growers and the exporters consider something like follows.

 

 ①The acreage and the amount of production do not decrease?

  They already restructured (disposed) lot at 2013 crop largely.

 ②Weather of both countries is good

  Last year, there was abnormal weather like a late frost in Chile.

 ③Huge shortage of 2013 NL

  We apologize for the inconvenience. It became a result of the understock for the global demand.

 ④The economy of the Asian countries (China, Vietnam etc.,) which had lead the global demand

  Due to the effect of a cold wave, cut flowers shipment which was the biggest demand for East Asian New Year(January 31st) was drastically delayed.

 ⑤Influence of the strong Euro

  Mexican Peso, Australian Dollar and Japanese Yen became more than 10% lower against Euro in comparison with the spring of last year.
 We are at final checking about amount of each variety or size. We hope for major exporters' coordination and require proper supply and price setting.

 On the whole, old or unpopular varieties become decrease or stop and comparatively new varieties are still not many, so order tends to concentrate on them. We thank to customers for many inquiry.

 We try to manage enough quantity but some varieties may be sold out when we show the stock list.
 The price depends on balance of global demand and supply, foreign exchange and so on. But basically, the amount of deal covers cost. We appreciate your support and would like to contribute to both of grower's and forcer's stable continuous production.
List of handling planned varieties of 2014SH bulbs(temporary)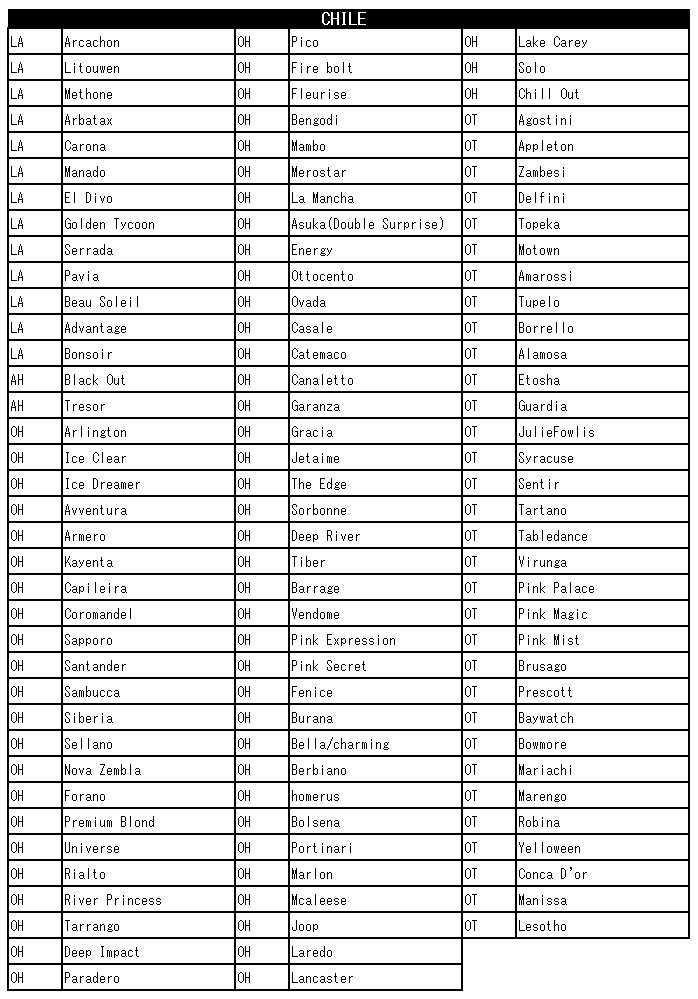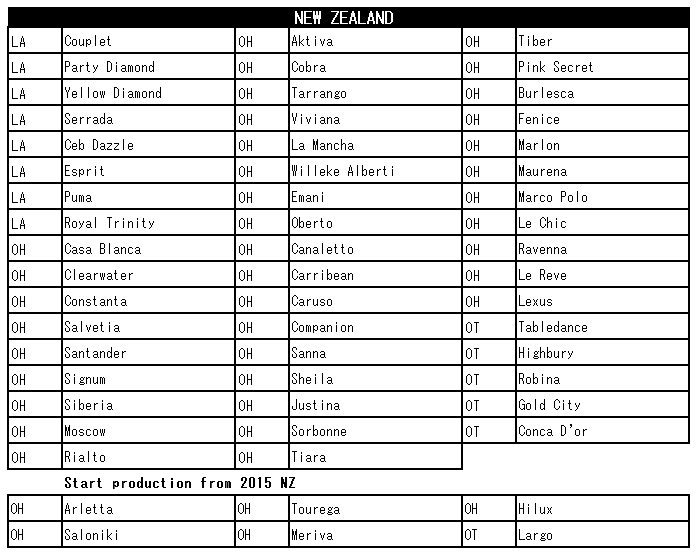 Now, our staff, Teru Nakamura, stays in Chile and New Zealand to investigate the field. He will report the details after coming back.

 The product from the same growers or lots which were good last year may not be good this year.

 We tell the situation about quality in Japan to the growers in SH and continue to ask them having consciousness to quality highly.

 On the other hand, we show you about growers' effort of quality improvement while keeping production.
 Although it had record of heavy snow in Kanto area because of a cold wave, the sunshine is getting stronger in February. The sunshine of afternoon at the fine day already becomes around 80% of the summertime. It would be changeful circumstance in greenhouse this time but we wish you manage well for upcoming important demand now till "Mother's Day".