General Report
August 30th, 2018
Nakamura-Noen Co., Ltd.
Keigo Nakamura
 Thank you very much for your usual cooperation.  I would like to report the general situation of the production areas.
Crop 2018 SH
For Chilean crop, as there was concern over the lack of growth in early stage, it ended up with much shortage.  Whether good or bad, due to decreasing of world's demand, the shortages could be filled up with stocks at grower companies, so many shortage varieties didn't have influence to the import countries after all.
New Zealand crop showed delay in growth at the point of January due to heavy rain and early summer's long dryness which I mentioned in my report of trip to New Zealand (summer and winter).  However, the estimation of the growth result was optimistic because the weather was good in general and disbudding was earlier.  The actual result was far from the estimation, and there was much shortage in bigger sizes including Siberia.
Both production countries had bad results.  We apologize for causing much inconvenience to our customers.
In addition, seeing the situation by variety, there were unexpected shortages such as virus problem in Casa Blanca NZ (1 year crop), and missing Japan lot numbers in Eldoret NZ, Manissa NZ, Lesotho NZ, and Redford NZ which appeared at shipping.  Once again, we are sorry for the inconvenience caused.
Dryness in Holland 2018
As I introduced in my report of New Zealand trip on July 30th a little, Holland had only few rain for 1 and a half months from mid-June to early August this year, which was a new type of abnormal weather for Holland.
In the graph below, you can see that the rainfall was already declining in May.  Bad harvest is already expected in some other products such as potatoes and beets.
On the other hand, in the case of lily bulb fields, there are usually irrigation facilities and I didn't hear any reports that a grower received water intake restriction.  However, in the high temperature of this year which was higher than usual years by 2 to 3 degrees, the artificial irrigation can only moisten the surface of the ground, and it's not enough water for the crop.
According to the field research of exporters in later August, the impression was that the quantity of a certain acreage is less even though the planting was done with more space between stems in many fields and (unexpectedly) the growth is estimated to be good.  In addition, the growth differs depending on the fields in the southeast Holland.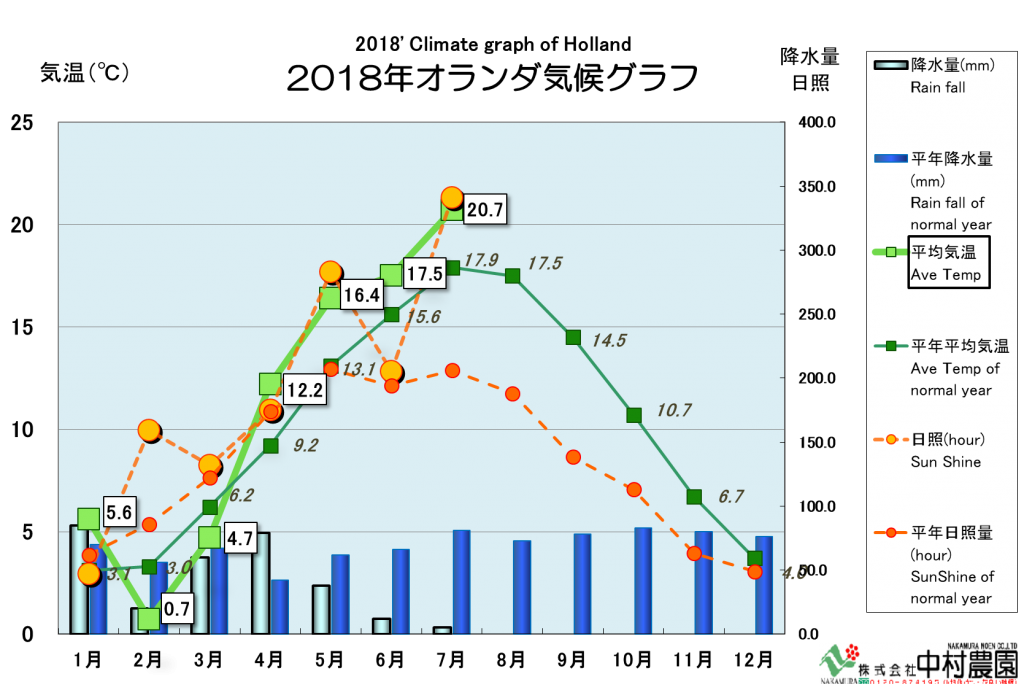 Please note that the growth advances actively and weather changes every day in August – September,
so the research in this season is difficult to use to judge the situation.
(Please also refer to the chapter 2 of the report of business trip to Holland on September 16th, 2014.)
Flowers started blooming in the heat resistance trial
Now is the good timing to see our heat resistance test of crop 2017NL (planted on July 17th) which you can see in our test greenhouse.  The most delicate timing for lilies' growth is 2 weeks after planting, and the temperature in Kochi City of this time is 32 to 36 degrees C at highest, and 25 to 27 at lowest, which is the hottest season in a year.
It must be busy season for our customers, but we would like you to visit us and see this interesting trial to challenge lilies' limits.