May 9, 2019
Nakamura-Noen Co.,LTD
Keigo Nakamura
Thank you for your cooperation,
We look forward to your continued support in the new era "REIWA" sincerely.
1.Warm winter and cool spring
The cut flower price of from SH crop 2018 tended to be low in January-February and high in April-March.
Please refer the temperature in the January-February of the following graph (for reference: average seasonal temperature in Kochi City).
2019 (thick red line) was warmer than the average of 15-17 (yellow dotted line), 2018 (Blue solid line) is quite low, and it can be seen that the difference with this 2 years was large.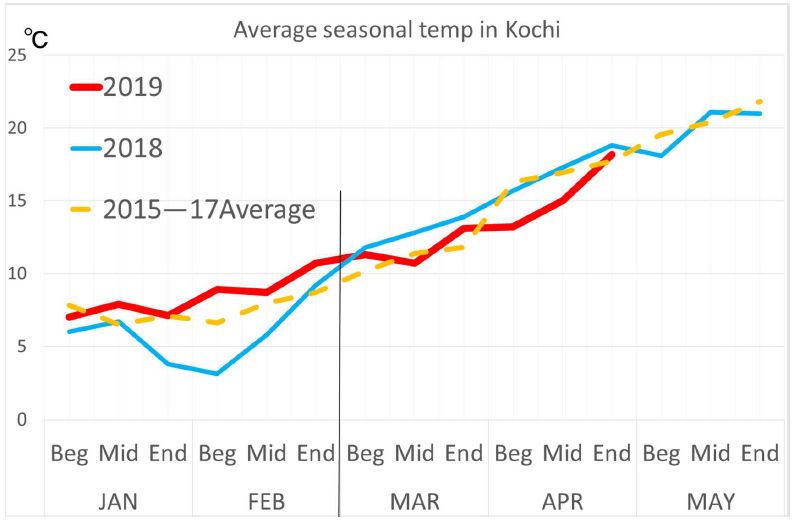 Agriculture is affected by the climate, but there is no increase or bias in production, as 1 bulb just make 1 lily, and I think that it was a relatively strong market among floricultures in general.
While imports of other flower kinds are increasing and the market distribution ratio of domestic production is decreasing, Lily, the second largest sales of domestic production, contributes to stable annual supply through the cooperation between grower and auctions.
2.Expected number of imports of SH 2019
The following table shows the results of a questionnaire survey on the sales situation of SH crop 2019 to export companies selling to Japan.
LA increased overall as a result of new varieties beginning in small quantities from Chile, in addition to increased production from NZ.
(On the other hand, 2018 Dutch LA is expected to decrease significantly.)
The Oriental / OT business was cautious on the whole, and decreased by approximately 1 million bulbs compared to the same period last year.
In addition, the production area in SH is decreasing and there is no significant stock left at export companies.



Cut flower shipment from April to June is the time to switch from southern hemisphere to Dutch bulb, but in the Netherlands, harvest season and its arrival in Japan are delayed year by year, because of the delayed fall season due to global warming. Plan your planting schedule for January-February with SH bulbs in mind, and please consider continuous flower shipment so that it does not become an empty transition period in May.
3. About Dutch crop 2019
The weather was good and planting progressed smoothly from late March to middle April.
A late frost occurred in the middle of April and there was concern about the impact on the two-year cultivation field that had already germinated, but due to the appropriate measures taken by the bulb producers, there is no bad report received after nearly a month now.
It is easy to mix information such as planting area and out of production for each varieties from March to April, and there are many information of relatively new variety that can be found after planting.
Market conditions in the world have changed their mood over the past three years, as the growth in Asian countries, which had been the driving force, slowed down and the outlook for the future is somewhat uncertain.



In the Dutch crop 2019, most varieties except Siberia have been negotiated at a lower level, and price adjustments are being made including the currency exchange.
We are planning to inform you of the inventory list (1st edition) soon, but we would be happy if you could contact our sales team in advance for inquiries.
4.Praying for Lily's achievement in the REIWA epoch
The history of imported bulbs in Japan has exactly the same as that of Heisei since 1990, when the Dutch lily bulbs became free to import.
Since 1998, the flower industry has entered a mode of adjustment, similaras the Lost 20 years after the collapse of the bubble economy.
The bulb industry also had its own unique pressure and stereotype, but in recent years, Lily has entered a turning point from the old varieties, and in addition, with the development of variety, it has bright light in the future.
REIWA. REI has a "beautiful" atmosphere, and WA means "harmony".
From the figure of a lily flower, the form of bulbs where scales gather,and the name of Lily written in kanji, there is a commonality of the image that Lily seems to be a perfect flower for the REIWA.
I think that Lily will walk through such as industry reorganization,revision of auction law, distribution technology innovation, change from competition to co-creation, etc., since the turning point of the year 2019.
5. Lily Fair June in Reiwa first year (June 13-16)!!
As introduced in the Dutch business trip report (October version and December version) last year, the Dutch crop 2018 has a nice growing season, relatively large sprouting, and it is currently growing with good volume coming out in our test greenhouse.
At this year's exhibition, we are preparing a large number of new projects and are preparing to be an event that visitors can enjoy.
Reforming ways of working for lily production!
With this message, in the "YuriFEX" section, we will introduce ideas that lead to various work reductions.
More freely and more fun!
We hold flower arrangement class to have you feel close to lily.
Children can participate.
Come on, smell it, and healed!
With the cooperation of flower scent specialist Naomi Okubo, and Setagaya flower auction, you can experience the flavor characteristics of each variety.
Drink and laugh at Night Festa!
Customers from inside and outside the prefecture gather at the day of official inside party, and an special reception (Night Festa) is held at night.
This year's exhibition schedule has been delayed for about a week, so we are planning not to overlap with "Dutch Lily Days", and we also expect guests from the Netherlands.
All of our employees look forward to your visit!
Thank you for your continued support.