Dear customers
August 23, 2019
Nakamura-Noen co.,ltd
Keigo Nakamura
Thank you for your cooperation.
Even though August 8 (the midpoint between the summer solstice and the autumnal minutes) has passed and it is said that it is autumn on the calendar, severe heat will continue in August normally.
But this year, I feel a bit cooler in the morning and evening since Typhoon No. 10 runs through West Japan.
The graph below shows the average temperature by season of the prefectural offices (city) in major lily cut flower production prefectures, based on observation data from the Japan Meteorological Agency. The dotted line is the average over the past five years, and the solid line is 2019.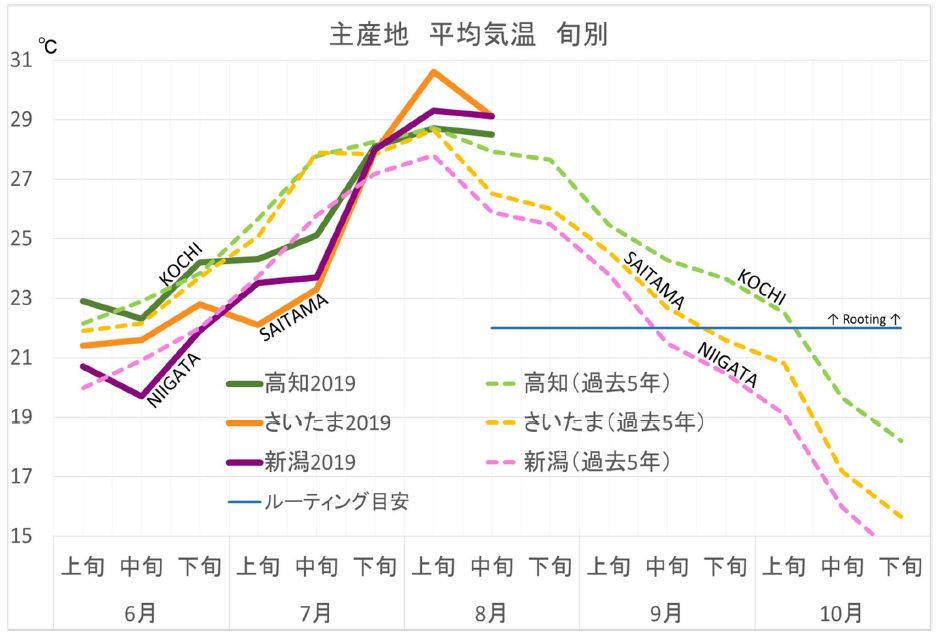 This year's temperature remained low until mid-July, but from end-July to mid-August, there were hot days over 30-35 degree C. Kochi City's low mid-August is probably due to the typhoon.
In recent years, global warming has progressed, and the Netherlands, which is relatively north of Europe, became extremely hot in the second half of July. In Bordeaux, France, the temperature reached 41.2 ° C, the highest ever observed. In Japan as well, during summer, (except Hokkaido) it has become a subtropical climate nationwide, and there are concerns about localized and sudden torrential rains.
Although the weather will be extreme and it will be a lot of trouble for the growers, please take measures against growth inhibition due to high temperature by the soil disinfection and routing (confirmation of "being rooted"). When it be performed appropriately, it can prevent to cause the upper root will be inserted, flower abortion, leaf burning, leaf drop, taper in the latter half of growth, insufficient plant height, etc. due to root delay.
― Our test house is at its to see ―
The summer planting type has a short growth period and is expected to increase the number of shipments and sales per area by increasing the number of house rotations and the benefits of reducing annual production costs per stem.


In the intense heat test, night cooling is not operated for the purpose of searching for varieties that are resistant to heat, and the growing period of Oriental OT in the house is about 45-60 days.
Lily breeding has evolved, and while existing Siberia and Marrero are struggling, it is now possible to select heat-resistant varieties besides Zambezi and Yelloween. Slowly sprouting lots such as late varieties are not always good.
In general, Oriental / Asiatic is susceptible to high temperatures and OT / LA tends to be insensitive, but the results vary depending on the variety.  In cultivation management with a high light-shading rate, the stem hardness should be checked. When you come to see, you can touch the stems in the middle of the cultivation bed to check it.
The remaining heat will continue for a while, but please love yourself !