Report of Trip to New Zealand
July 12th, 2017
Nakamura-Noen Co., Ltd.
Keigo Nakamura
 Thank you for your usual cooperation.
 I went to New Zealand to see the harvesting situation from July 4th.  Please see the brief report of this trip.
Growing advance in autumn
As I mentioned in my NZ report on February 8th, the weather between planting to January was unstable, and the temperature got up to 25 degrees C at maximum one day but another day was only 15.  There were many cloudy days with less sunshine, so the growing of some bulbs seemed slow even though the green above was good.
In this research, the growing was better than usual years.  According to the bulb growers, the weather became usual from February and had much rain in March and April (autumn).  The fertilizer was still in the ground so the bulbs kept growing.  The scale fields were especially good, and some varieties such as Conca D'or and Manissa were already salable sizes like 14-18cm.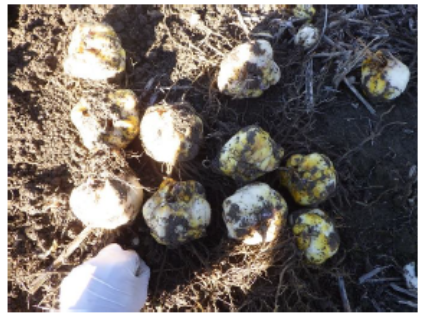 The photo above is Casa Blanca.  These are unusually big, and you can see how they are comparing them with my fist in the left corner at the bottom (a bulb on the upper right corner is 19cm).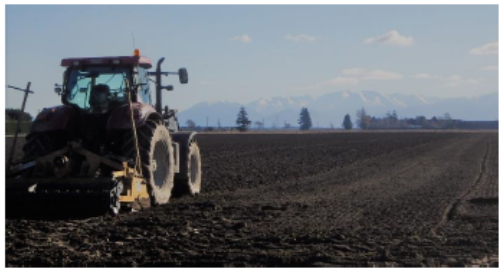 In the South Island of NZ, more growers do winter planting (early planting), and they can take more time for growing now.  The photo above is a field which had done planting.   It is said that this made making bigger bulbs easier, prevented double-nose, and made power difference between 1 year crop and 2 year smaller.
2. NZ Sprout formation is actually complex

The photos above are comparison of 1 year and 2 year crop of same grower, variety and size.  In the case of Holland, the climate differences among production areas are smaller, and most growers take same production system (Chilean growers also take similar system).  On the other hand, in the Southern Hemisphere, the situation changes because of many factors.  So it's not always correct to judge things by conditions or growers of the bulbs for SH crop.
Left photo (white back) : the left sprout is 2 year crop, and the right is 1 year
Right photo (brown back) : the left sprout is 2 year crop, and the right is 1 year
 I talked about planting density in my report of Chile, and here are the NZ fields before harvesting.  The left photo is a Siberia lot which is said to lack power a bit in (last year was like the right photo).  The photo in right is a different variety from the same field.  We can see more green (moss) in the left.

 As the importer who deals the biggest quantity of NZ bulbs in Japan, we keep visiting there every year and sharing the situation with the growers.  We believe that it is important to discuss things with the bulbs growers a lot based on the results in our customers' greenhouses or our lot test for the stable supply of commercial bulbs.