General Report
August 18th, 2017
Nakamura-Noen. Co., Ltd.
Keigo Nakamura
 Thank you for your usual cooperation.
 The Obon week passed, but the temperature has been still high nationwide.  When we compare the weather data of the last 5 years, Kochi City's average temperature from July to August this year is the highest after 2012 and 2013.
 Please check the schedule of the trial in our test greenhouse from "Report" page on our website.  Now we are doing the heat resistance test to find varieties which are strong against the heat (planted on July 11th).    Some problems from the heat and lack of root development at planting time are giving influences in the later stage.  This unusual high temperature is causing heat injuries which are not usually seen.
 Pre-rooting is generally said to be 2 weeks in 12 degrees Celsius.  However, you should check the actual sprout height or root, not only the number of days, for 2016 Dutch crop because the sprouting speed is later than usual, and also because enough root development is important especially in this hot season.
 In summer, the temperature in greenhouses is often higher than the outside air temperature.  Besides, the warehouses which are meant to be the bridge between cooling rooms and fields are also actually get hotter than outside in daytime, which is easily overlooked.  It is important to check thermometers when you take out the bulbs from cooling rooms.
Statistic of production area crop 2017NL
 As we introduced on our website, the production areas of OT varieties are increasing year by year.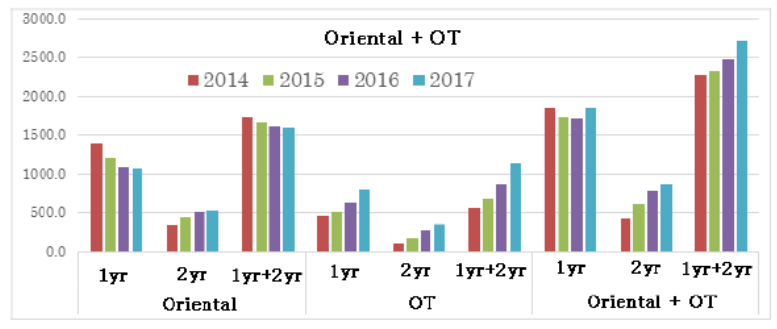 As I mentioned in my report on May12, Robina, Conca D'or, Manissa and Yelloween for China and Vietnam have kept increasing.  In addition, the rapid increase of Tabledance and Zambesi is also remarkable.  The numbers in the following table are acreages (ha) of "2 year crop" and "others (1 year)".

 At the beginning of June, I heard that the shipping to China and Vietnam from Holland was delayed.  It seems that it got back to normal by now and nearly getting to the end even though there is still a small delay according to interview to Dutch export companies.
The table below is the list of varieties and production acreage which are more than mid-scale and increasing significantly.  For more details, please refer to the article "Statistics of Crop 2017NL production acreage (English ver.)" on July 21st on our website (you can see it from Japanese page).
Hybrid
Variety
Color
Crop2016
Crop2017
Year on Year
OT
Adelante
Pink
8.33
15.41
185%
Amarossi
Red
18.63
23.34
125%
Competition
Pink
13.46
16.48
122%
Dalian
Red
18.01
36.91
205%
Forever
White
33.38
41.39
124%
Lesotho
Yellow
5.96
10.59
178%
Maldano
Pink
8.81
23.28
264%
Maytime
White
5.43
14.78
272%
Palazzo
Red
19.82
29.3
148%
Profundo
Pink
18.34
29.74
162%
Sensi
Red
9.67
14.35
148%
Serano
Yellow
15.71
21.87
139%
Oriental
Bacardi
Red
15.57
24.07
155%
Calvados
Red
10.96
15.07
138%
Canberra
Red
14.92
19.08
128%
Curie
Red
7.24
10.34
143%
Indiana
Red
16.03
22.21
139%
Lake Carey
Red
44.65
52.72
118%
Premium Blond
White
22.76
29.16
128%
Signum
White
42.11
58.02
138%
Red color, similar varieties to Robina, and White OT are increasing.  The trend of Oriental seems to be based on demands of cut flower forcers in Holland.
The last is white Oriental and other major varieties which are distributed in Japan.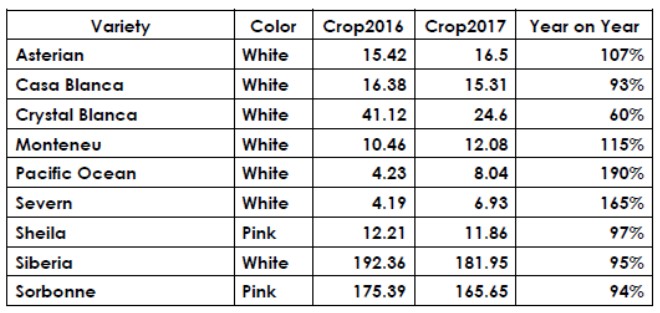 Siberia didn't decrease as much as we were worried, but French Siberia is said to have been much less.  It reminds us of crop 2015 French Siberia which were already expected to have shortage in August, and after all, the big quantity was changed to Zambesi with no choice in January.
Crystal Blanca was reduced a lot because mid-America is changing their demands to Zambesi.  Pacific Ocean and Severn increased for some reason.  Casa Blanca showed less drop compared to last year, and Sheila and Sorbonne have good balance of demand and supply.
While OT has increased a lot, slowdown of Chinese and Vietnamese economy is concerned and the local business of crop 2017NL looks inactive since spring.  The total production area of Oriental varieties which Japan needs stopped declining, but when we see each variety, the acreages are small and many varieties are already sold out.
There have not been weather disasters such as heavy rain or hail like last year in Holland.  However, euro is becoming strong worldwide and it changed from 115JPY in January to 130JPY in July.  Therefoer, unfortunately we will have to raise the price step by step.  We beg your understanding and cooperation.