Report of Business Trip to New Zealand
July 14th, 2016
Nakamura-Noen Co., Ltd.
Keigo Nakamura
 Thank you for your usual cooperation.
 I left Chile on July 2nd for New Zealand and checked the production situation there.  Here I report the trip below.
Catch Up in autumn
The graph below is the climate data of Christchurch which is near Rakaia area (Royal Van Zanten and Bakker), the main production area in NZ.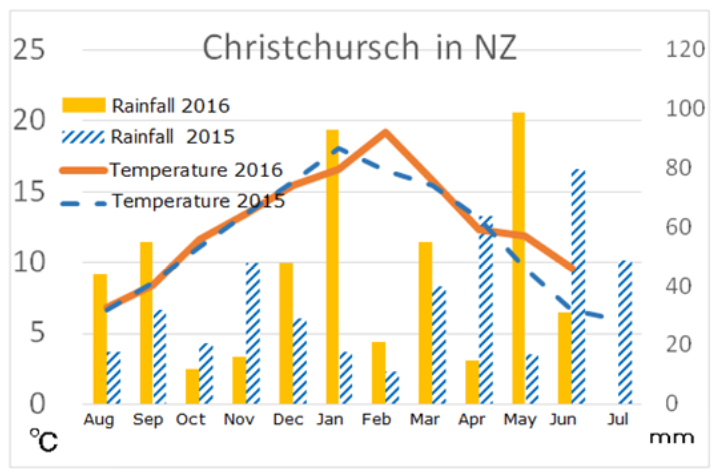 Blue lines and bars (broken line and bar of slant line) are crop 2015's temperature and rainfall amount, and orange and yellow are crop 2016's.  As I mentioned in my report in February (please refer to the article on February 26th), the weather was not good from spring to early summer.  Also the late frost in November, and more rain, less sunshine and low temperature in January made us worry about the bulbs' growth (it was similar to crop 2016NL).
However, weather changed largely after February like Chile.  The temperature became higher and it was like autumn came 1 month later than last year seeing the graph.
The rainfall was extremely little since summer.  It rained a little in Rakaia in May, but Napier in North Island (Island Bulbs is in Napier) had rain only 3 times since the first day of 2016 until harvest started.  It is still warm and sunny even in harvest season.  El Nino / La Nina might be the reason of this climate.
Regarding bulbs' growth, there are varieties which are doing very bad growth and estimated to be shortage because some fields were damaged by hails and some varieties hurt their upper roots by irrigation and heavy rain.  In spite of such situations, this year can be said to be a good year in point of bulb enlargement comparing to the data of last 5 years' field research.
The result was led by growers' wariness from the delay in growth in the first part (crop 2015 was also bad).  To catch up, they increased fertilizer, decreased trimming of surface, and left the fields as long as possible to let bulbs grow longer.  In addition to these efforts, it was also the factor of the good result that May and June was unexpectedly warm.  When I visited there, the temperature were minus 3 degrees C in early morning and there was light frost, and the harvesting was going well.

2. Let's compare the sprouts
The table below is the comparison of sprouts inside the bulbs in NZ and Chile.

Sprout length and stem length are much smaller than last year in both countries.  This may be because low temperature in the first period and late autumn delayed the sprout formation, and also little rain in harvest time made the soil temperature stable.  This is a good trend.
The data of the stem part of sprout is similar in 2 countries.  NZ is thinner than last year and CH is thicker a little.  We will see how these differences will make the final results in power of the bulbs and tolerance to long term cooling storage through trials at our lot test greenhouse.
The pictures below are the sprouts of Siberia 1 year crop in Chile (upper) and NZ (lower).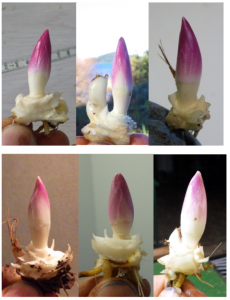 In this research, thanks to growers' cooperation, I peeled and checked over 120 lots (and much more pieces).  My finger nails hurt and became very black….
3. Mechanization and optimization support good quality
When I was studying in Holland in 2001, bins (wooden boxes) were loaded on harvest machines, but the mechanization showed steady progress since then.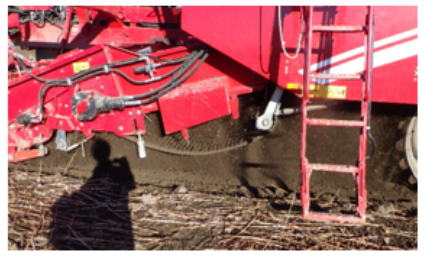 Bakker renewed their harvest machine this year.  The big difference is that most soil is removed when harvesting, and it makes transportation to warehouse and washing process more efficient.  The new machine also removes old stems, and the digging part became easier to be seen from operating seats.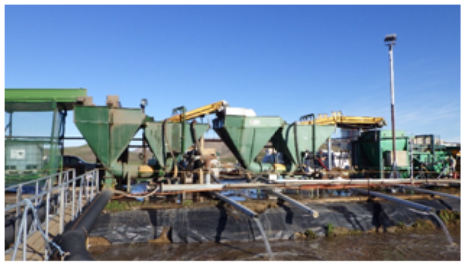 Island Bulbs invested in the facilities for field washing.  They can continue the same locations since this year and have enough processing capacity.  They made a switch on the drain, and it enabled to use different reservoir for virus-infected lots, which helps the quality management.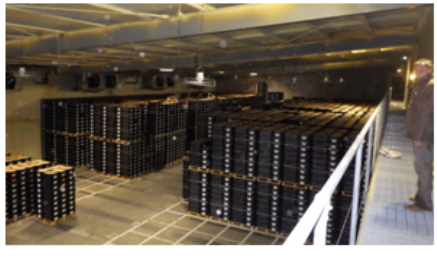 Van Zanten prepares a big cold warehouse in Rakaia area, and solved a problem that they had to use storage at port which was inconvenient and unstable.  Direct shipping from the new warehouse is possible so the logistics work became easier.
The people looked relaxed, maybe because the weather was good and the harvest process was being done smoothly.  Now harvesting is in the middle or latter half point, and we, as an importer, hope they will not lose their concentration and do their best to make better bulbs until last.
Shortage and size change information started to come from this week.  Of course, we will try our best not to give our customers inconvenience.  We will inform you as soon as possible if we have to ask for adjustment.
We appreciate your understanding and cooperation.