Report of Trip to Southern Hemisphere in Summer
February26th, 2016
Nakamura-Noen Co.,Ltd.
KEIGO NAKAMURA
 Thank you for your usual cooperation.  I went on a research trip to Chile and New Zealand from February 1st.
Climate
Please see the graphs below of climate data of Osorno in Chile and Christchurch in New Zealand which are main production areas in each country.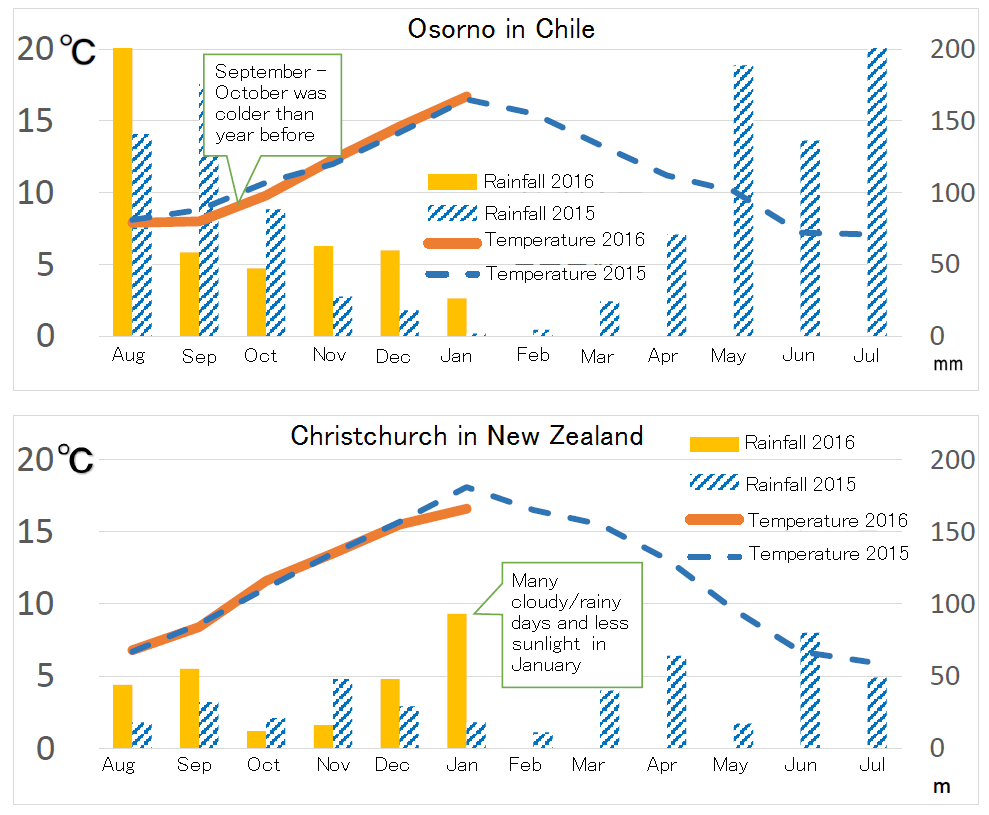 Frost measures
In spring there is frost in fine nights when the temperature goes down.  If the temperature in a field becomes minus, leaves freeze and top leaves get big damages.  Especially scale fields, small planting materials, 2 year fields in sprouting stage get influenced so much that part of the fields cannot grow in case.
This year there was frost in Chile in September to October, and New Zealand in early November of minus 5 degrees C.  They could have been able to take some measures stirring air with huge fans on the ground or helicopters if they knew frost was coming, but of course it's difficult in many cases and some fields got damaged.
Some growers move the planting date later than normal schedule considering their experience of frost damage, and some plant earlier with prevention.  This year early planting in winter seemed better growing in my research because the disbudding was done earlier and made growing period longer.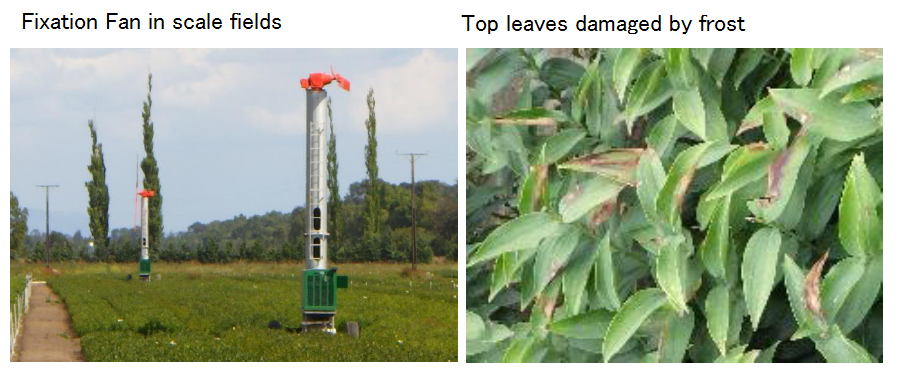 In bulb production in southern hemisphere, taking action to risks of frost influences growth of planting materials, and the later process a lot.  If there are possibilities of frost damage, planting is done in spring, and we'll see bulbs of normal growth in the next year.  Therefore, in order to make bigger sized, bulbs need to be planted with some space between, or need to grow for 2 years.
On the other hand, if there is little risks of frost (or enough measure is taken), growth of bulbs goes well and commercial bulbs of bigger sizes are available with 1 year fields.  However, the bigger planting materials become, the less lights to the ground because leaves get crowded.
It was a very informative inspection tour that I saw characteristics and policies of each grower.  I could see many scale fields at the same time, which is also very useful to examine crop 2017 and 2018.
Density and cultivation management
Here are photos taken at each grower' Siberia in a random order.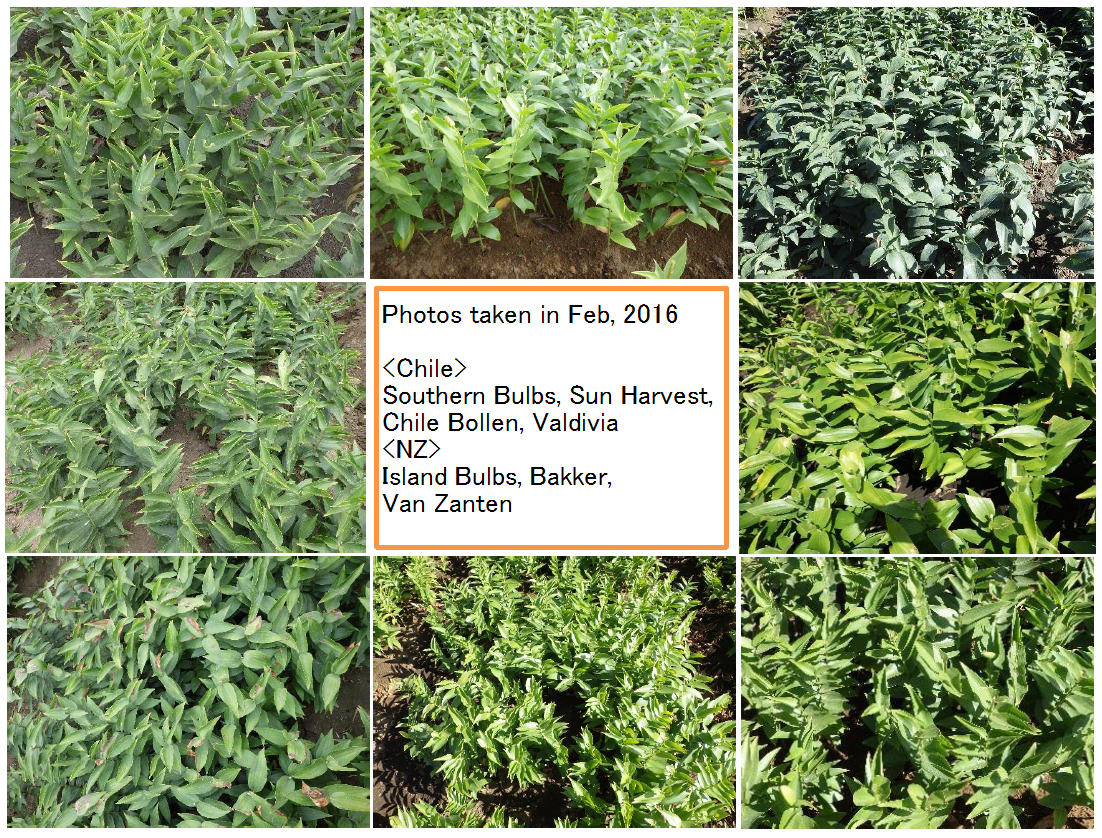 You might feel that the leaves are a little pale because of high temperature and active growth in summer.  The density of planting differs depends on various factors such as risks of frost, planting date, consideration of other years' growth, or size of planting materials.  In addition to density, volume and timing of fertilizer also influence quality of commercial bulbs.
In this research I heard that some growers changed fertilization plans a little.  There is possibility that images of each grower's bulbs change after their policy change of fertilization.  (Shrinking of volume from less fertilization in later steps considering rot or bud counts, or volume up from the opposite change and so on.)
We will check these changes and differences in our lot test house every year, and we hope that the results can be useful for bulb production side as well sharing the data and our requests with forcers.
Quality of bulbs
We remember virus problems of some varieties / lot numbers from crop 2015SH.  Particularly in PV's case, the present test method started to be taken from year 2013, and last 2 years must have been difficult time for bulb growers checking mother bulbs and planting materials and disposing the infected ones to make their fields clean.
The factors of sales bulbs' quality starts from planting materials.  Planting materials which were harvested in 2014 become sales bulbs of crop 2015, and if they are small they will be used for 2 year fields.  This is the reason why sometimes similar characteristics are seen in crop 2015 and 2016.
The planting materials themselves are made and renewed every year, so we cannot say that last year's quality equals to the next year's.
The growers are so keen to improve the qualities that they take any measures they can.  Some produce over 1 million mother bulbs in greenhouse, or others scale over 4 million bulbs to keep more than enough materials in case of unexpected accidents.  They of course do quality tests on their own which cost a lot of money.
I tried not to be influenced by the images when I was checking the fields.  PV shows smaller symptoms compared to other virus, but I can still see it from my experience watching stems and leaves carefully.
I exchanged our concerns with growers' actual information, and this helps our purchasing of crop 2016.  (Some are still under investigation.)
We believe that such communication is important to choose adequate quality bulbs for use in Japan's January to March when the any symptoms are easy to be seen.
Situation of purchasing and sales of crop 2016SH
I could get much information through this trip, and believe that we could arrange our stock with nice quantities, size balance, prices, and of course qualities.  There are some varieties which we cannot buy enough quantities because the production areas were reduced a lot for quality management.  We will inform our customers come under as soon as we get final information.  We hope you can understand the situation.
We are going to issue the first stock list of crop 2016SH with specific quantities available soon.  Please give us some more time to decide the prices as we still need to do negotiation with suppliers.  We expect that we will be able to propose lower prices for most varieties compared to crop 2015SH seeing the recent bulbs' market price and foreign exchange.
The world's situation
In last report I mentioned about cut flower market for Chinese New Year in Asian countries.  After that, I heard that the quantities of flowers in Asian markets fell down because of cold wave at the timing needed.
Low oil price also influences demand of cut lilies in oil producing countries.  Especially decrease in consumption of LA hybrid in Central America is worried.  (This should appear in crop 2016NL.)
Milk price is going down worldwide and this is bringing some change in use of land in Chile and New Zealand.  We hear that now it's easier to rent a land for bulb field in country side where is mainly used for pasture, or those land turn into winery or apple fields.
On the other hand, housing price in Holland has risen up to the level of before Lehman's fall, and I saw over a thousand houses being constructed in a suburban city where we visited in Chile (photo below).

The time of my trip was Chinese New Year's holiday season, so I saw many Chinese tourists at Auckland Airport in New Zealand.  (didn't see "binge shopping")
The world is changing rapidly, but we need to judge things and keep going trying not to be influenced too much by the situation.  We believe that it will make the industry stable and also it's necessary to do business globally.
I appreciate the kind cooperation of the growers and staffs in Chile and New Zealand to give me opportunities to meet each other and exchange information and opinions.