General Report
January 12th, 2016
Nakamura-Noen Co., Ltd.
Keigo Nakamura
Thank you for your usual cooperation.
The first half of Year 2015 was a good mood, but the latter was unstable in weather and market price.  Especially the high temperature in autumn had a big impact and it's till warm now in the mid January.
On the other hand, price in NY crude market declined to 32.1 dollars last week, which is a first low price since December 2003.  It will be cold as usual years from this week, so we hope that our customers heat the greenhouses enough to make good quality flowers.
Now you can see the trial of crop 2015SH (planted on October 14th) at our test greenhouse.  The temperature is indeed higher than normal to see Le Reve or Saloniki blooming in mid December, or OT varieties and Salvetia blooming just after New Year's Day.  We recommend you to visit us to check the growth by end of January which is the best time to see.
Considering the import quantity of last year
According to the statistics of Plant Protection Station, the quantities of lily bulbs imported to Japan are as below;

It is generally said that the suitable line of import quantity equals the population of the country, but in Japan's case, the total quantity is less than the population (126,880,000).  We hope that we can catch up other countries like Taiwan whose import quantity is 2-3 times as its population.  In order to make it, we will keep trying to expand the demand of lilies introducing many charming varieties to forcers and markets.
2. Crop 2015NL
As I mentioned in the last report of trip to Holland dated November 25th 2015, low temperature in spring (May) and autumn (September + October) made the growing time shorter and obstructed bulbs' growing bigger.
LA varieties which have worldwide demand had been sold out before harvesting in most varieties.  After harvesting, there were big shortages in El Divo, Scipione and so on and there are not many varieties / sizes we want left.
Oriental and OT shortages started to appear gradually from the end of last year, and there have been many changes in order.  Some varieties are not clear yet until French bulbs are done which is making the shortage information late.
We are trying to inform our customers of shortages right away when we get information, and offer alternative varieties.  We sincerely ask you for your understanding and cooperation to reserve quantities you need as soon as possible because there are many shortages even in major varieties this year.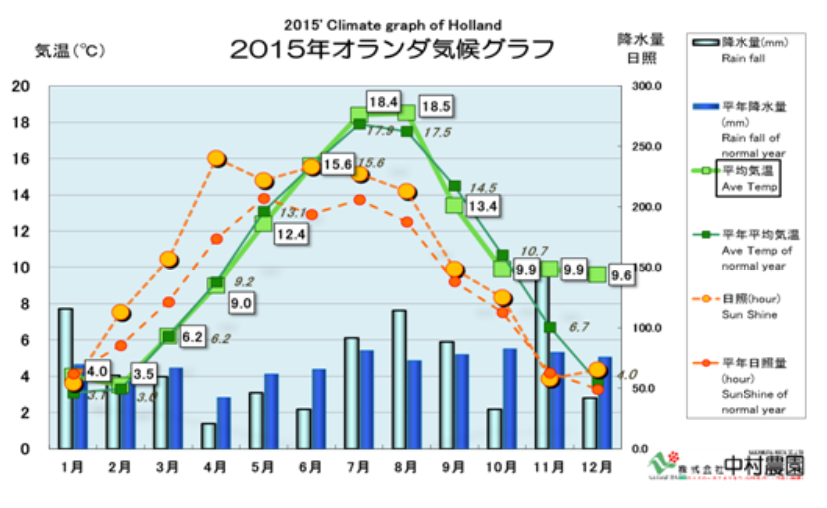 To see the average temperature in harvesting time in November and December in the graph above, it was indeed very warm as +3.2 and +5.6 degrees Celsius.  We'll do our best to deliver bulbs in better condition in such year as a professional bulb supplier.
2016 is the Year of the Monkey (= "SARU" in Japanese) om Chinese astrology.  "Salud" in Spanish means "health" and "toast".  We wish you good health and happiness in this "SARU" (Salud) year.