Estimation of Import Quantity of crop 2015SH
September 23rd, 2015
Nakamura-Noen
Keigo Nakamura
 Thank you very much for your continuous support.
There were many shortages of crop 2015 New Zealand and Chile, and it took for a while to adjust the orders. Now the bulbs are coming in and getting ready to be delivered.
We herewith report the survey results of sales quantities to Japan after harvest. We'd like to express appreciation to the exporters for answering the survey.

LA / ASIATICS:
The sales quantity to Japan was up to 4.2 Million before harvesting considering the big shortages of crop 2014NL and recovery from the snow disaster in Saitama. However, as a result, there were big shortages of about 20% of the original orders in both CH and NZ. It couldn't fill up the short stock of NL crop even though the year on year rate is 105%.
Arriving time of Dutch crop is becoming later and later, so the market might be tight until O-Higan in spring.
ORIENTAL / OT:
The sales quantity to Japan was about 23 million before harvesting, but both CH and NZ crop became 6 % less after and ended up with 97% of last year.
The right graph shows the survey results from 2010 (after harvest). It looks like 2015SH crop is too much less than previous years.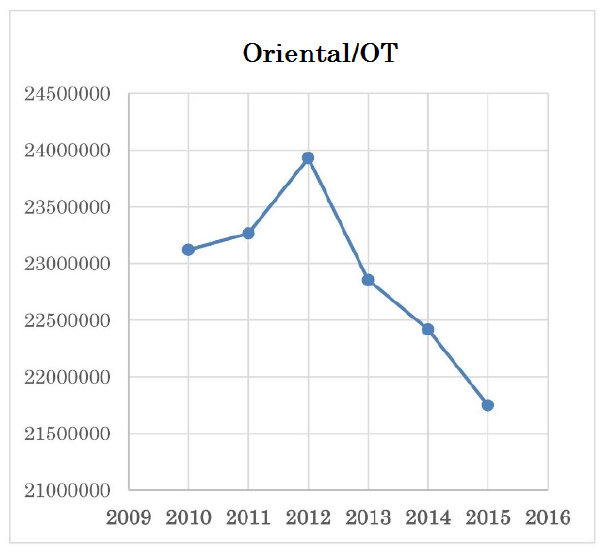 The graph below is the change of Oriental/OT cut flower price in newspapers from January to May in 2015. We can say that year 2015 was not so bad compared to the last 4 years' average. We also can see that it's out of the influence of consumption tax increase now.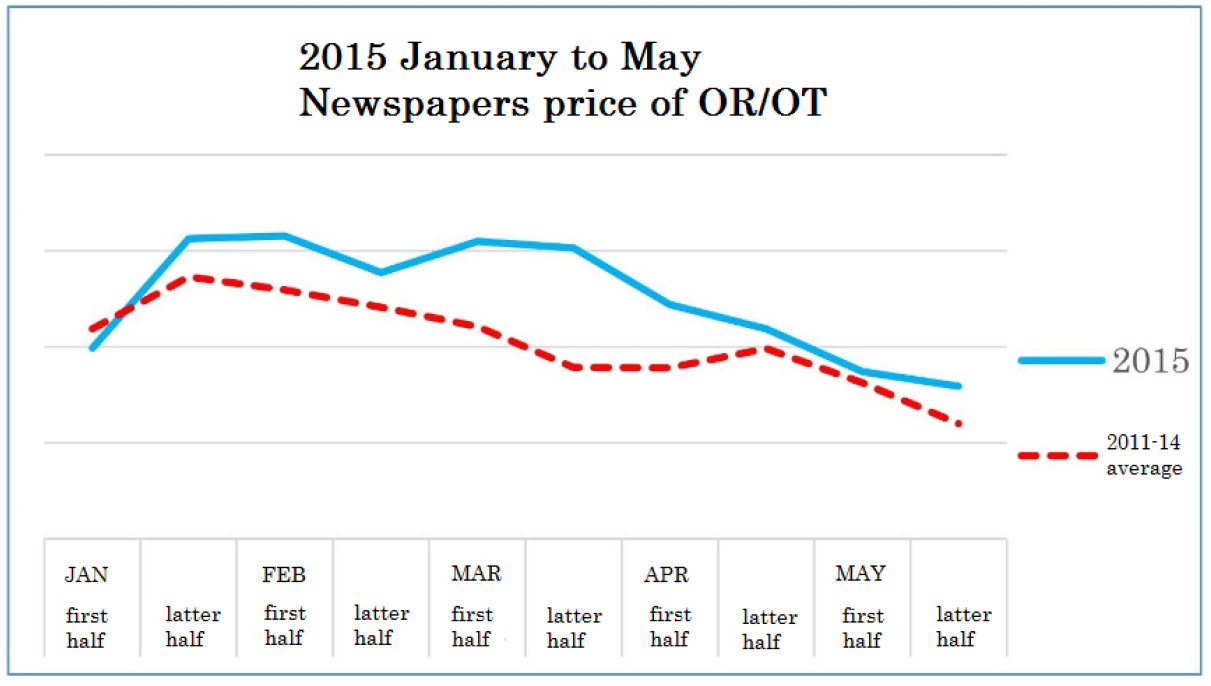 Unfortunately, the estimation of import quantity of Oriental/OT is to decrease, but we hope your business from winter to spring will be stable and good to meet markets' demand!