General Report (Crop 2018NL)
June 4th, 2018
Nakamura Noen Co., Ltd.
Keigo Nakamura
 Thank you very much for your usual cooperation.
I would like to report the situation of crop 2018NL briefly.
Climate of Crop 2018NL
Planting of Dutch crop usually starts in middle of March, but many growers delayed the schedule by 1 to 2 weeks this year because of frost and rain.  In April, the temperature was high and the weather was good, and planting went so smoothly that they recovered the schedule.  May was also hot (it's said that the hottest May in last 100 years), and the condition is not bad for the primary growth.  In some 2-year crop fields, disbudding has already been started.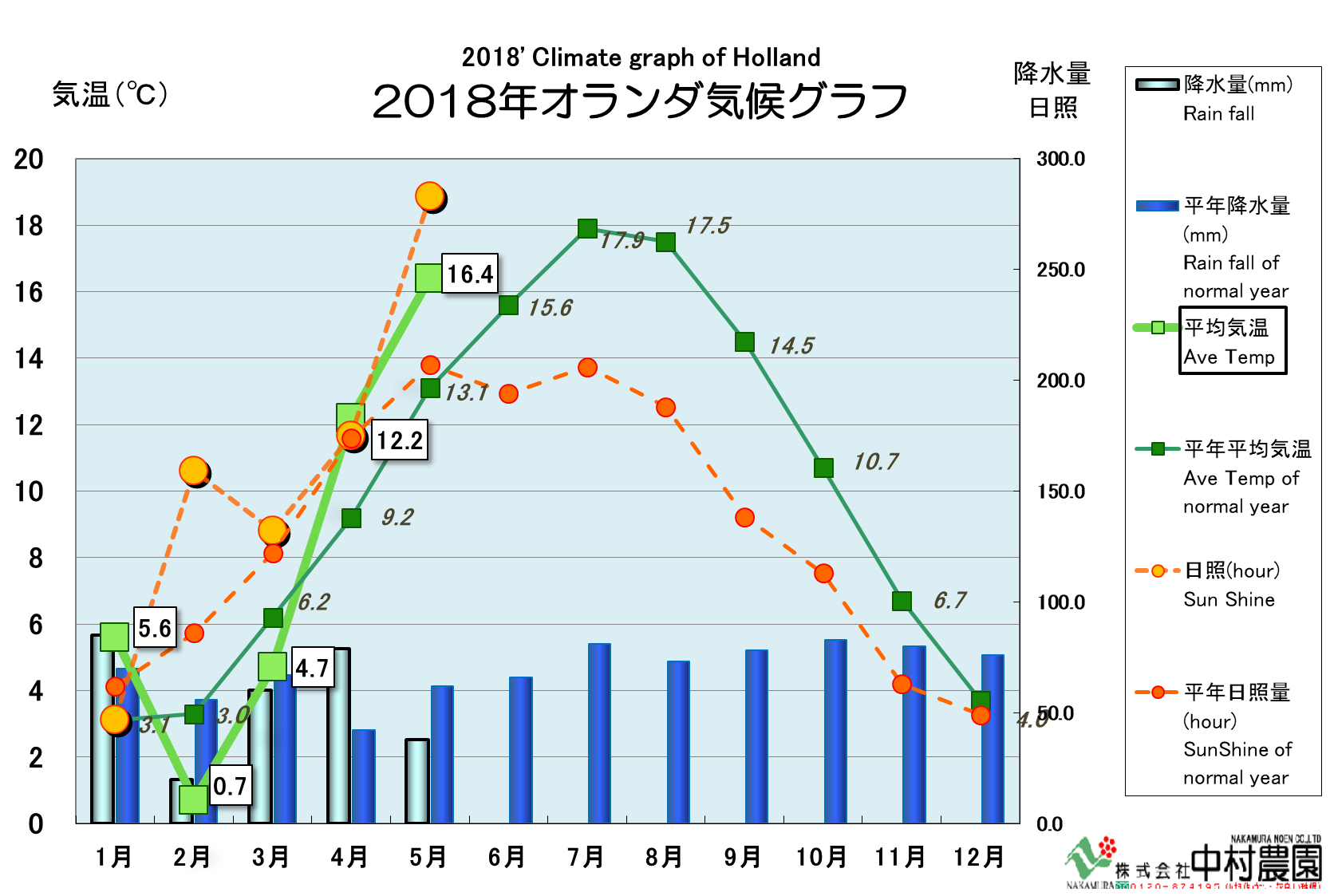 Grower "R" Affair
In harvesting season of crop 2017NL in the end of last year, a piece of information that a bulb grower company "R" who had many pink Orientals for Japan would go bankrupt.  It was worried that exclusive varieties of "R" such as Emani, Barrage, and Queenfish would be out of production.  However, their 2-year crop fields and planting materials were taken over by other growers, and the production didn't stop after all.  After this news was announced, many people thought that pink Oriental would decrease significantly.  We heard some stories that some alternative pink varieties which had not been accepted due to their little economic efficiency before were introduced and purchased in order to fill up the expected big shortage of pink varieties.
Watch Out for Increasing OT
 Asian countries which had led the world's demand of bulbs have been in difficult situations since last year's summer, and the business of crop 2017NL and 2018SH is stagnant.
As I introduced you in my last year's report ("General Report", August8th, 2017), the production acreage of OT varieties is increasing rapidly.  For example, Conca D'or and Robina have already been over 100 Ha, and Manissa and Yelloween are following after.  Dalian, Profundo, Maldano, and Competition are also increasing for Asian market.  In crop 2018, OT varieties which are recently increasing are popular, and the older OTs are left behind.  This is also making a pressure in the market price.  The OT bubble might have busted practically.
Japan doesn't have big trade in those varieties (We are rather a kind of "Galapagos" country in the world's market…?), so the influence is not so big for us.  However, we need to be careful about Siberia because it has a solid demand in Asia, and it's already sold out at growers.  Meanwhile, French Siberia is still available at production side, but the negotiation has been hard for traders.  For example, there is a possibility that the exporters get proposed a combination sales of French Siberia and other OT varieties like big quantity of Yelloween.
The situation of LA is a little similar to OT's, and it's going slowly as well.  Therefore, Japanese LA production areas have time to consider which varieties and sizes are really useful for them before deciding what to buy.  We expect development of potential demand in the flower market.
Our Website Renewed
We changed the design of our website in November, 2017.  Since then, we have expanded the contents, linked it with SNS, and repaired displays step by step.  We will put some articles about "Lily Fair June" which will be held from June 7th to 10th on our website, so please check it out.
For the database, we increased the number of photos appear, and changed the layout to make it easier to see with smartphones.  Thankfully the number of active users in a month became over 1000, and when we see all of our pages, it's now more than 2000 users.  Thank you very much for using our website!