Report of Business Trip to New Zealand
July 30th, 2018
Nakamura Noen Co., Ltd.
Keigo Nakamura
Thank you for your usual cooperation.
I visited New Zealand from July 17th to 20th to see the situation of harvesting and grower companies.  I would like to report it here.
Dryness in New Zealand is similar to Holland 2018!?
I arrived at Auckland Airport in early morning on July 17th.  When I was waiting for a bus connecting terminals outside, I took off my jacket and packed it in my suitcase because it was warm.  In this week, the temperature in both Hastings in the North Island where Island Bulbs locates and Rakaia in the South Island where Van Zanten and Bakker locate was 18 degrees Celsius at highest in daytime which was like spring.  I realized again that New Zealand is warm.
You can see the trend of this year's climate if you look at the graph of the data in Christchurch (45 minutes to north from Rakaia by car) at the bottom of this chapter.
The monthly average temperature of crop 2018NZ (red full line) is higher than the normal years (broken line) especially in the first part of the growing season.  In addition, as I mentioned in my report of New Zealand (dated on January15th), a month and a half during November and December which is early summer in New Zealand was dry because of less rain.  The growth situation when I visited there was "rather small".
In my last report on July 23rd, "Report of Business Trip to Chile", I mentioned that the climate of Chile this year is similar to that of Holland in last year.  The climate in Holland this year (2018) is like the dryness in New Zealand of 2018.
The temperature in Holland has been high since Dutch Lily Days in early June this year.  There has been no rain for more than 1 month, and the water level of canals started to go down.  Therefore, the government started to announce restriction of water intake for irrigation on fields in some places.
The high temperature in the early season influenced TULIPS, and the harvest result was around 25% shortage.  In the case of lily bulbs, the growers started to worry about the growth even though they showed good growth in early season and disbudding was early (as well as New Zealand).
By the way, the weather in France was bad in spring, and planting delayed and disbudding was later than Holland this year.  Therefore, it is said that the power of crop 2018 of each
Holland and France will be opposite to usual years.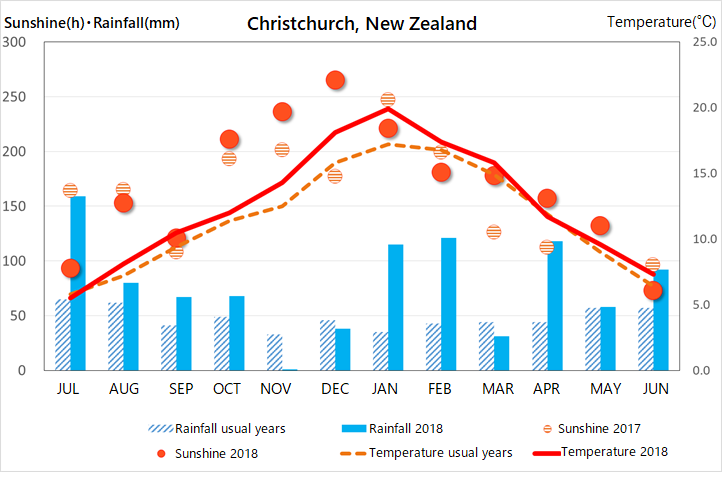 Bulb growth and sprout formation
Let's return to New Zealand.  As blue bars show in the graph, there was much rain in January and February in mid-summer, so the growth caught up in the later season.
The harvest went smoothly, and it was already done at many fields when I visited.  Growers said that they removed stems above the ground in autumn which was an average schedule, and the result was also average in general.
For sprout formation, I could check many samples of mainly varieties for Japan.  The comparison between the result of this trip and the average number of the last 5 years became as following;
Length of sprouts: 106.7%  Width: 113.0%  Leaf count: 115.1%
There were hail and early frost in Rakaia in early April, and this can be the factor of advanced sprout formation.  There was more sunshine than 2017, so the sprouts are wider and look powerful.
NZ crop usually has comparatively higher sprouts, and this character is stronger this year.  Appropriate management in transport and storage is required.  We have advantages of efficient transport which comes from the volume we trade, and our special cooling warehouse which was designed for flower bulbs.  These will help avoid the risk of logistics.  We will keep doing our best to supply lily bulbs in good condition using our knowledge about production countries and varieties and our experience as a specialist in lily.
Improvement in packing
Bakker has done a big facility investment to improve the quality and work efficiency in last few years such as constructing new warehouses for bulbs and washing facilities.  They also changed their packing machine to automatic this year.  The maker's machines have good reputation in Holland, and many Dutch exporters are using their products.  Conventional general packing machines could only shake boxes in a horizontal direction to mix together bulbs and peat moss after they are poured in boxes, but Bakker's new machine has a new function of vertical shaking which enables bulbs and peat moss to mix more evenly.  Only for the cases to Japan, 2 people stood by the machine to close the plastic bags and to place carbon covers on top.  Other work by human was driving forklifts which is done by a few people.  The room had an orderly atmosphere with rhythmical machine sounds.
It is a way of thinking that manual work is the added value, but Bakker's automatic machine packing brought stable packing quality.  The principal of Bakker, Mr. Adin Geeson, who has the longest experience in lily bulb production in New Zealand, seemed relieved to have this new machine.

Our future business partner in the next generation
The lady in the photo below is Ms. Rosanna Pater who is the oldest daughter of the Paters of Island Bulbs.  After training at relative companies in other countries, she started her fist job in the harvest season of New Zealand.  When I visited Island Bulbs, she gave me her time to visit around the fields together and helped me the research.
Japan's cut lily production in winter can't consist without NZ bulbs.  I hope that more young people like her will take part in the bulb production in New Zealand for the next generation.