General Report
September 26th, 2018
Nakamura-Noen Co., Ltd.
Keigo Nakamura
Thank you very much for your usual cooperation.
Import quantity of crop 2018SH
 I sent out a questionnaire about the trade of crop 2018SH to Dutch exporters in early September.  The result of the quantity sold to Japan was like the table below.
 The lower table is the result of crop 2017SH.  To compare the 2 years, Oriental/OT of 2018 ended up becoming about 2,000,000 pieces less (10% less), which we've never experienced.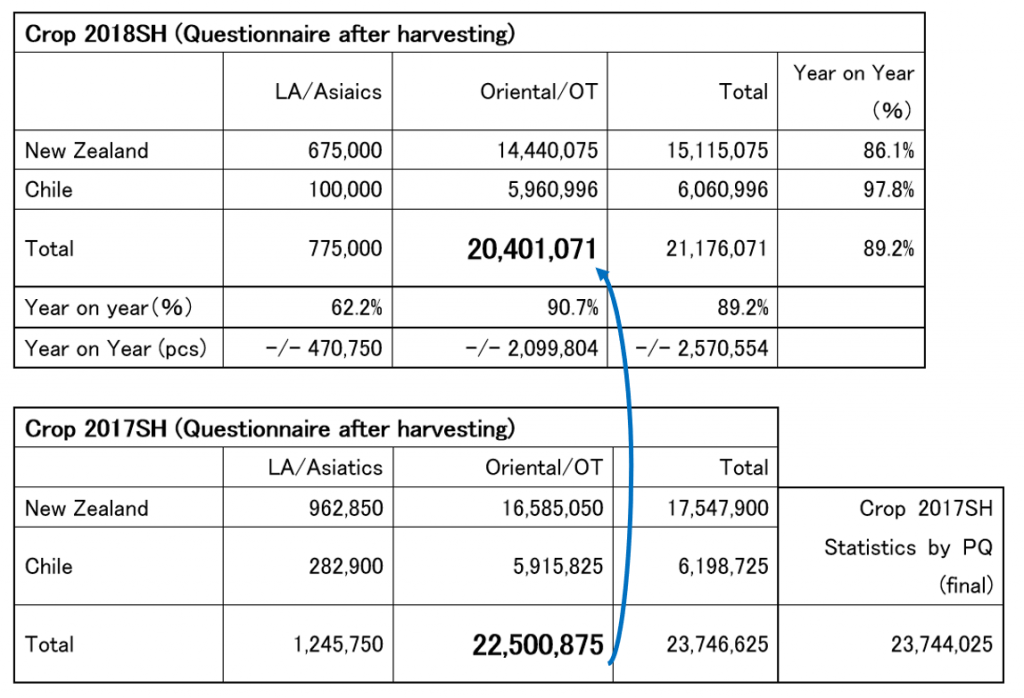 The price stayed low from April to June in the whole flower market, and there were big shortages in Chilean/New Zealand bigger sizes, so it should have been difficult to make the late forcing plan (planting in January and February) of this year's SH bulbs.
 The arrival of crop 2018's Oriental/OT in Japan usually starts in February.  We would like our customers to re-check their planting schedules to keep cut lilies in the markets continuous and stable from winter to spring.
 Some kinds of flowers got influences of the severe heat and typhoons in their schedules of raising seedlings and growth.  As "Flower Business Notebook 2019" by Ota Floriculture Auction "Ota Floriculture Research Institution" introduces, lily is a flower that is shipped stably every month through a year, and most of them are domestic product.  Therefore, lily is helping increasing Japan's self-sufficiency of flowers.
 You can buy flowers from areas which had damages of rain and typhoons.  Buying domestic flowers supports the growers who suffered from disasters, as well as you can recognize "the value of flowers".
Decrease of 2018SH's big white varieties
 As I mentioned in my report on August 30th, the production was bad result in both New Zealand and Chile this year, and the lack of growth especially influenced bigger sizes.
 Chile was worse, and there were big shortages in 1 year crop of Avventura, Siberia, Pathos, and Premium Blond.  Some varieties were not bad in 2 year crop, and they could fill up 1 year shortages with 2 year bulbs for alternative.  The temperature was low in summer in Chile, and the sprout formation was as I introduced in the report on July 23rd.  So the change between 1 year and 2 year might lead a good result.
 For New Zealand crop, as well as Chile, there were shortages in bigger sizes of Constanta, Siberia, Tisento, Fastrada, Bendigo, and some other varieties.  For Casa Blanca, growers gave up harvesting 1 year crop which was the half amount of the total Casa Blanca production because of a virus problem, and only 2 year bulbs were sold. 
 While many varieties had big shortages, Arletta, Silentia, Salvetia, Signum, Sedano, Tourega, and Pacific Ocean have plenty supply.  You can order more for these varieties (shipping from NZ will finish soon, so it's better to hurry). 
Climate of Japan's summer to autumn in 2018
 Temperature transition from summer to autumn differs every year, but to compare 2016, 2017, 2018 with 2013-2015 in the next graph of Kochi City's seasonal average temperature by the Meteorological Agency, it seems that the global warming has advanced. 
 2018 (zigzag green thick line) was warmer nationwide, and planting in July and August was difficult to make stems long.  In our heat resistance test (planted on July 17th), we did 3 week-pre-rooting with rooting stockers for Oriental varieties.  We grew stems as long as possible before planting to make the stem length longer.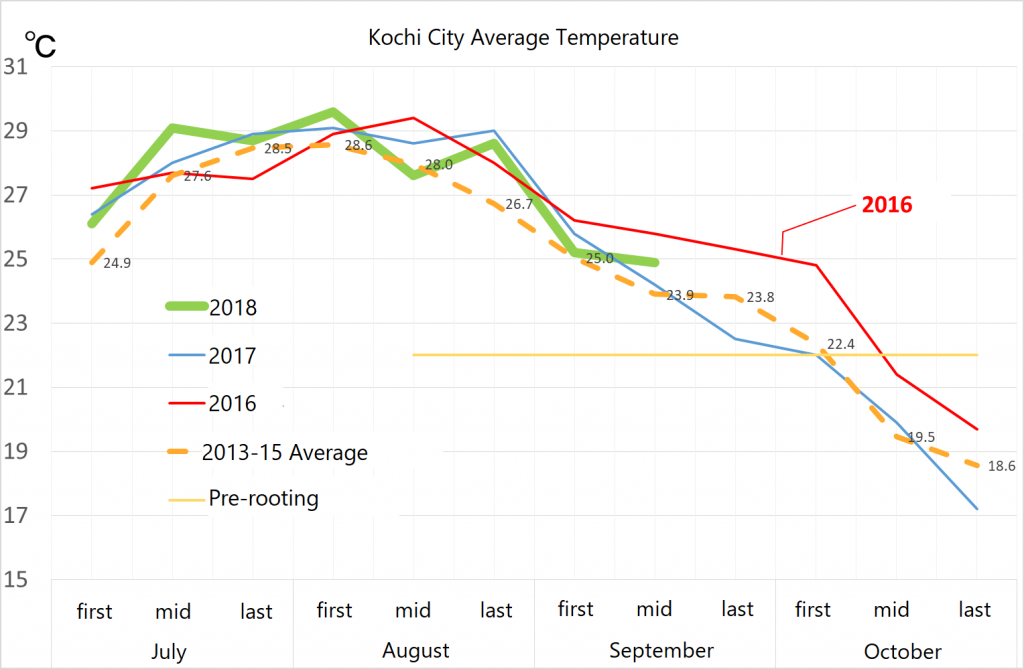 In this method, we got results as below.  There were not much differences between 1 year Dutch crop and 1 year French crop, but 2 year crop showed the possibility of use in summer.


 Seeing September and October in the graph above, 2018 is similar to cool 2017 (blue line) more than hot 2016 (red).
When the temperature got down to 25 degrees Celsius at highest and 19 degrees at lowest (wearing long sleeves in daytime), you can plant bulbs without pre-rooting.  However, planting SH bulbs in early October shows dispersion in the growth, so please do sensitive control.  It should be the key point for continuous shipping to use both NL and SH crop in October, and not to make off-crop time in January (especially mid January).