Dear Customers
Dutch crop 2019 acreage statistics (preliminary)
August 6th, 2019
Nakamura-Noen Co., Ltd.
Keigo Nakamura
We would like to express our sincere gratitude to you for your continuous support.
I would like to report on the acreage statistics announced last month.
About the acreage (Ha) by hybrid group
The table below compares 2018 Dutch production (confirmed value) and 2019 production (preliminary value) by hybrid group.  The area of "greenhouse" and "scaling" is omitted.  For details, please see the acreage statistics <original language version> on our website.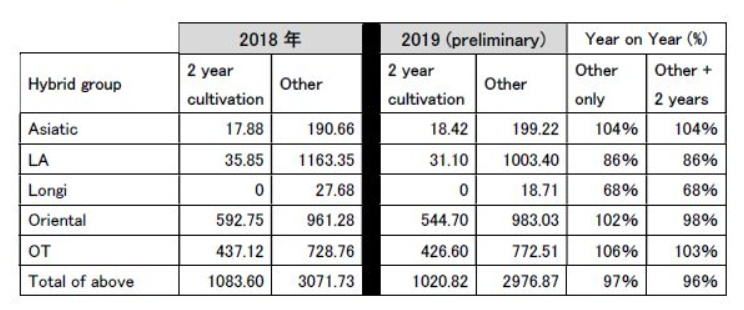 The commercial production is divided into "2 years cultivation" and "Others (= normal 1 year cultivation)", but Dutch side has divided opinions whether "2 years cultivation" is only for 2 years for commercial size or including 2 years of scaling (naked scale).
The cultivation area of Dutch LA has continued to increase for the past several years, but 2019 production has decreased significantly by more than 150 Ha (1 year cultivation is minus 13.7%), and the total of the above hybrid lines is 3 – 4% decreased.  According to the statistics of exports from the Netherlands compiled by Anthos (an organization which the export company belongs), the number of exported bulbs (outside Europe) from 2016 to 2018 was approximately 1.2 billion bulbs, and global demand remained stable.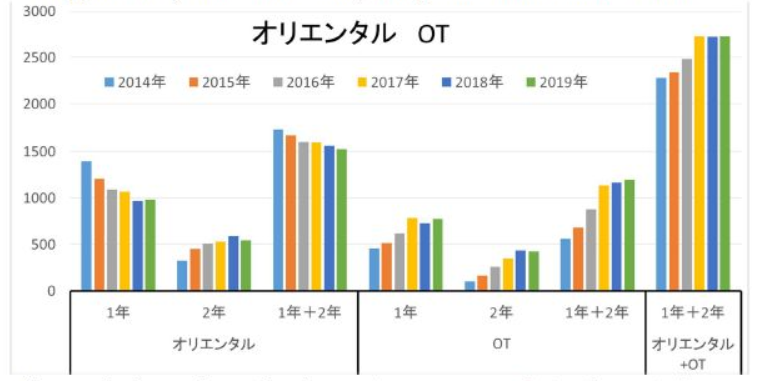 The graph above shows the change in area compared to the past 5 years (preliminary figures) for Oriental and OT.
Oriental is a slight decrease of 98% compared to the previous year overall (1 year + 2 years), but one year cultivation has increased after a long time.  The 2-year cultivation of Oriental and OT has decreased, and one year has increased as a positive factor due to global warming in recent years.  Because naked scales have become widespread, planting material productivity has improved, and 2-year cultivation can annoy the harvesting.
In Oriental, the following major varieties whose 1 year exceeded 30Ha has increased.  In the Netherlands business trip report on December 18, last year, we introduced you about the termination of license of Siberia, it is surprising that the acreage has increased rapidly already from this year.


In medium-acreage varieties, Castellani, Ice Dreamer, Peter Schenk and Vendome are increasing.
In addition, the total number of Double varieties increased nearly twice from the previous year, and Elena, Isabella, and Thalita of Rose Lily exceeded the average acreage of Oriental varieties.  Anouska, Aisha, Smantha, Tatsyana, Viola, etc, where the future is expected, area increasing.
In OT, the three major varieties with 2 years + other (1 year) exceeding 100Ha have the following year-on-year changes.

Conca D'or is the largest variety of OT, and supports the yellow demand in Asia and Latin America together with Manissa, which is almost the same acreage as the previous year.
Robina increases in the same way, and we can see the strong demand for dark pink and red in the world.
In addition, the acreage of similar varieties as shown below is increasing rapidly, and some are concerned over production.

In Zambesi, the total of 2 years + other (1 year) is about 10Ha (9.6%) higher than 2018 production.  It have promoted world demand by offering affordable bulb prices due to good productivity.  On the other hand, recently, banks have checked the profitability of each variety, and there is a story that varieties that do not have high profits suggest a decline in production.
The price competition with Zambesi  is affected by white as a whole, but as shown below, the expected demand and the expected value by bulb growers seem to differ for each variety.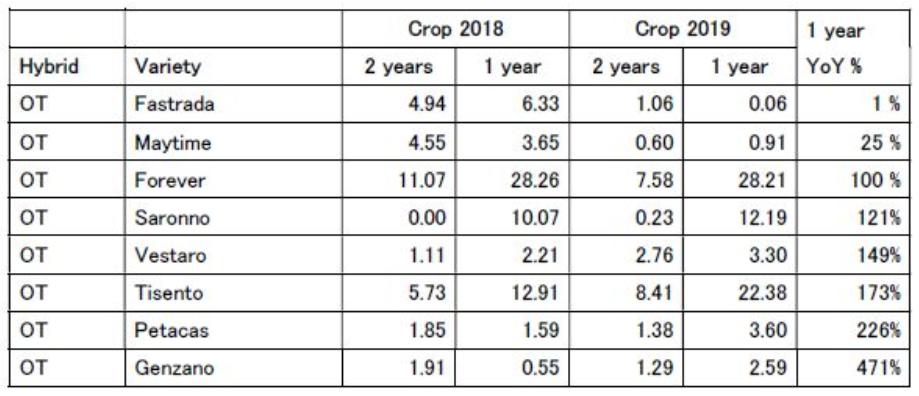 Here are some Oriental and OT varieties for your reference.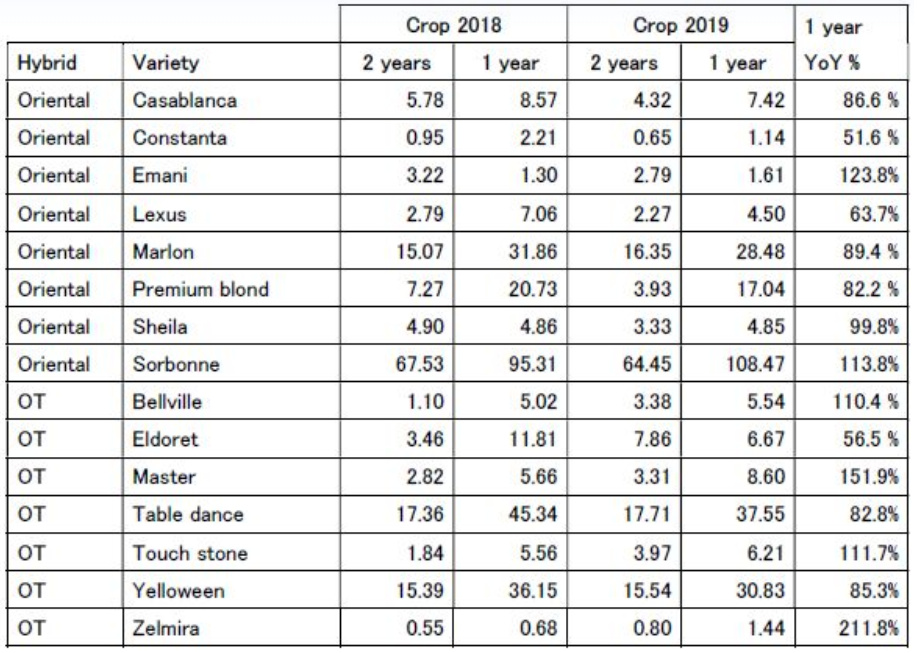 Below are some LA varieties.

2. Dutch weather fluctuations
The increase or decrease in variety acreage is important, but bulbs are a field-cultivated crop, and the final production (harvest) depends on the growing weather.
In the Netherlands, climate change is increasing year by year.  In recent years, bulb growth has been stagnant due to high temperatures and dryness in summer, low temperatures and long rains in autumn, etc., resulting in crop results that are 10 -15 % less than expected mainly in large sizes.
For Dutch bulb growers, if the production prospect is higher than the actual one, there will be downward pressure on the market in the balance between supply and demand.  As a result, if the harvest us less than expected, sales will decrease and the management will be adversely affected.
The table below shows the  average monthly temperatures in the Netherlands.
Places that are 2 degrees Celsius higher than normal are red.

There was news that the life expectancy of Japanese people has increased five years by over the past 30 years, Global warming is also progressing steadily, and if you look at the temperature over several decades, you will notice that it is rising.
Hot average monthly temperatures of 2019 and 2018 are the same as in France, and the temperature tends to rise even in the Netherlands, especially in the inland.
This year, in the beginning and and middle of July in the Netherlands, was cooler than normal, and the average monthly temperature was not particularly high, but a heat wave came in end of July, recording 40 degrees Celsius in some areas.
3. Introduction of intense heat test in Nakamura Noen
At our test greenhouse now, a mid-July planting "Mid-Summer heat test" is underway.  The importance of this test has increased as global warming has progressed and high temperatures in summer have become more severe nationwide.
Therefore, the number of test varieties is greatly expanded from 2 rooms last year to 3 rooms this year, and we will look for varieties that are resistant to heat and can retain their beauty even under high temperatures.
This limited-time test is not available on the website, and the flowering period is scheduled from the end of August to the beginning of September.
(The photo below is taken on August 5.)
Oriental / OT is with pre-rooting and LA / Longi is not.
The temperature in the greenhouse is high and you will get sweated, so please bring your change of clothes and come to see.  We'll be waiting for your with a drink.
Thank you.