Report of Trip to Chile
July 3rd, 2017
Nakamura-Noen Co., Ltd.
Keigo Nakamura
 Thank you for your continuous cooperation.
 I visited Chile from June 27th to July 1st to see the harvesting and other situation.  I report it here.
Worldwide climate change in Chile
There was much rain in crop 2017's harvesting season in all production areas of Chile.  It caused a delay especially in 2 to 3 weeks of mid June, and the work at warehouses even stopped some times.  Valdivia and Osorno in the south are used to rain because it happens every year, but this year there was also much rainfall in Los Angeles in the north which was unusual.  The harvesting in Chile is 40 ~ 65% of the whole process, which is making 1 week delay.
The harvesting was re-started when I visited there, but the fields were still very muddy after tractors went as you can see from the photo below, and it was difficult to walk on it.
Thanks to help of bulb growers and relative people, I could check many fields and harvested bulbs of Japan lots and some others.  The growth of the bulbs differs depending on the fields, but it can be said that swelling is a bit slow because the rain in October to December and drying in January stopped the growth temporarily.  The north area in autumn was unusually cold as there was frost in May.  On the other hand, in the middle and south areas, the temperature was high until late so dying was later than usual years by more than 1 week.
I mentioned about climate so far, but in total, I felt that the influences by planting density were rather big even though there were indeed many climate changes such as high and low temperature, rain, and drying.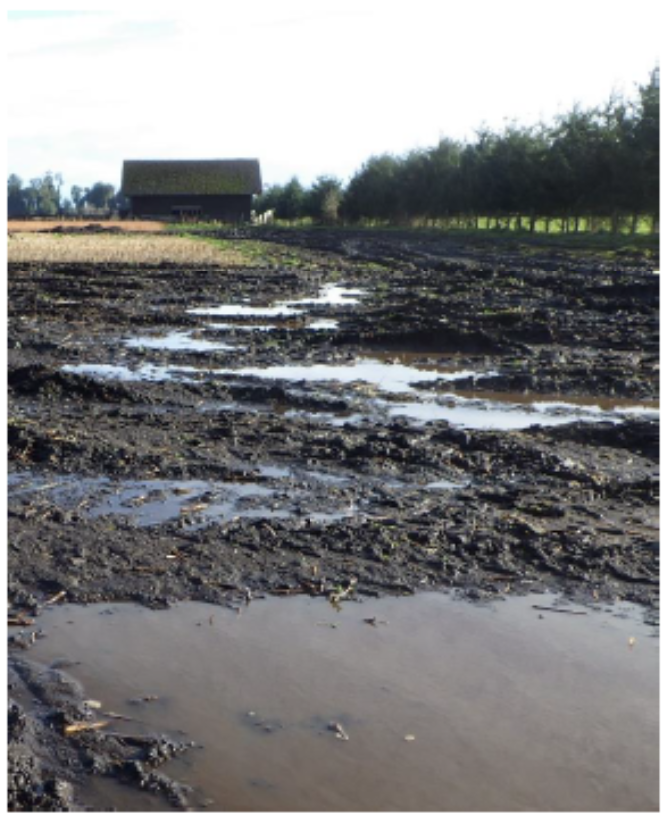 2. Partners to share the future
The 2 photos you see next are from different fields of different varieties and sizes.  It's easy to tell that the left is dense planting and the right is sparse planting.  The recent planting machines can place the bulbs with equal spaces more accurately than before, so the growers can make sales bulbs of close sizes within 4cm differences (ex. 16~19cm).  The left field is 5-6cm growth from the original size, and the right is 7-8cm growth.  I think that the left field is doing better in spite of the density.  The quality is another subject.  (If there is a person who argues a stereotype "the more space, the better production", maybe he doesn't understand bulb production very much).

Bulb growers decide planting density according to the results in previous years and world's demand.  If they could make bulbs of demanded sizes and quantities, it would be the best for both growers and forcers.  However, it is very difficult because of many reasons.
Our company deals the most Chilean bulbs in Japan, so we visit Chile every year.  We believe that it helps us understand the growers' hardships and experiences.  Through this visit, I felt that they and we are good partners who can share sense of values and business management, and we hope that we can work together well even if the production changes such as decreasing of existing varieties for quality problems or so on.
3.
Chilean national team will play against Germany in the final match of the Confederations Cup on July 2nd.  People in Chile are very exited as those who usually are not interested in soccer watch the games this time.  All the shops close on Sunday, so I saw many people queuing in front of liquor shops to buy heaps of drinks to celebrate the match on Friday and Saturday evening.
Chi-Chi-Chi, Le-Le-Le, Viva Chile!!
---
I'm heading off to New Zealand which had already left the tournament in the preliminary league.